Out of 357 valid entries, the winner of the Accuquilt Giveaway is none other than:
#296 Jennifer H., who said "I'm a new follower via Google Reader!  Thanks for the chance to win."
Congrats Jennifer! I saw that your blog is called "Confessions of a Serial Starter," so hopefully this tool will help you finish up some projects more quickly!
But there's good news if you didn't win. First of all, check out the giveaways page for 3 more chances to win a GO! Baby. Also, we'll let you know when the GO! Baby giveaways are posted on our personal blogs, Bugglebee and Lindsay Sews, so that's two more chances to win!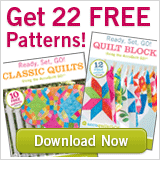 Finally, if you haven't signed up yet, sign up for Accuquilt e-mails and and you can get 22 free patterns. Thanks so much to everyone who entered, and welcome to our new followers! We hope you enjoy this week's projects, tips and features.
Are you looking to start your own craft blog? Maybe you're ready to upgrade to a self-hosted Wordpress blog. After trying other hosting companies, Craft Buds proudly uses
Bluehost
(affiliate link) for all of our hosting needs. It's super reliable, a great value (just a few dollars a month!) and easy to install Wordpress with one click.
Get started
in just 5 minutes or less!